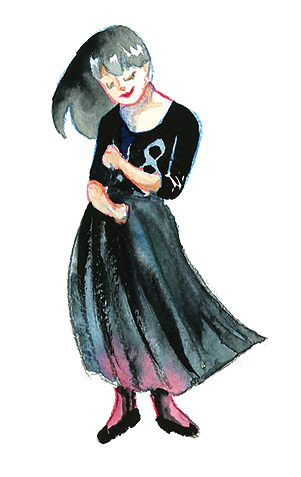 London-based, French-Indonesian

 A

nimator / Director

with a keen interest in mixed media. I blend watercolour and monoprint with digital 2D animation, play with both traditional and digital techniques.
My short films have been screened internationally and won awards including 

Best Art/Experimental at San Francisco Dance Film Festival

and

 the Edit Award at Homescreen Movement Festival

.
Past experiences 

include work in advertisement, animated TV series, installation, animated documentary, institutional films, festival trailers, music video and narrative shorts. 
People I've worked with 

include

Nexus Studios, Partizan, France TV Slash , Barbican x The Smalls, BBC Documentary, NATURE, Channel 4 Random Acts, LADbible and more.
I am able to direct, design and animate a project from A to Z for you, or come on board your team as an Animator, Clean up Artist/Lead, Storyboard revisionist or Background Paint + Layout artist ! Get in touch via  at laura.ntamara  @ gmail.com orthe contact page. 
I occasionally teach, give talks, and work as an illustrator and title designer in Live action + Music Videos.
Software:

 Excellent knowledge of TVPaint and Adobe CC (Photoshop, Animate, After Effects, Premiere, Indesign, Illustrator)
Technical skills:

Traditional drawing, painting & printmaking techniques (charcoal, graphite, acrylics, watercolour, gouache, monoprint).
Languages:

French (Native), English (Fluent), Japanese (JLPT Level 4), Indonesian (conversational)
2017 - Grand Atelier d'Animation Japonaise - 5 day masterclass with Koji Yamamura
Exhibitions, TEACHING & TalkS
2022 - Speaker at Ravensbourne University
2020 - Speaker at Storytelling for Animation panel, chaired by Evgenia Golubeva, Cardiff Animation Festival, UK
2018 - 1-day Animation workshop for high school teachers with Nicolas Thys for French Ministry of Education
2017 - Brightside, Natan Art Space, Yogyakarta, Indonesia
2017- Ghosts/Bodies, Natan Art Space, Yogyakarta, Indonesia
2016 - In collaboration with Deborah Tchoudjinoff for 'Psyterratica II', Darkness cannot drive out darkness, only light can do that, Lights of Soho, London, UK
2016 - In collaboration with Deborah Tchoudjinoff for 'Psyterratica II', Creative Matters, London Design Festival, London UK